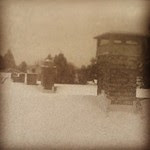 The core trio of Second Story Man – Evan Bailey, Jeremy Irvin and Carrie Neumayer – has made music together since 1999 or so, influencing younger local bands and touring with national acts like Sebadoh in the process. A handful of bassists have come and gone in that time, and now the longtime lineup of Bailey on drums and Irvin & Neumayer on guitars (all share vocals) has shifted. Bailey is now playing guitar while Irvin has moved to bass. Drew Osborne, who has played with Old Baby, Workers and Your Black Star, has joined on drums.
The new quartet has released a new song. One thing we know about it is that it is called "You Never Know". We also know that you can hear it on Soundcloud. And that it's a Bailey-driven song, "with lyrical help" from Neumayer. It was recorded by Trip Barriger at Treehouse Audio, and mastered by Garrett Crabtree, Jr. (of Glitter Titz DJs fame).
For their first show in three years, and first with this lineup, SSM plays Saturday at the New Vintage. Mote opens around 9:30 p.m., with Mind Crimes DJs Evan Patterson and Jonathan Glen Wood (both also of Old Baby) before and between bands.