By Aaron Chadwell
leo@leoweekly.com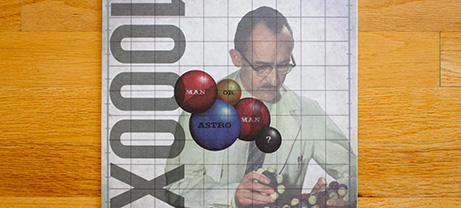 The inventive and punky surf band Man or Astro-Man? returns to Louisville on Wednesday, October 12th for a show at Headliners Music Hall. Locals Natives and Anwar Sadat open. But what does MOA? leader Brian Teasley have to say about this turn of events?
LEO: For folks unfamiliar with your stage show, what sort of intergalactic antics do you have in store for the citizens of Earth on this tour?
Brian Teasley: The Man or Astro-Man? live show experience is like a sensory deprivation tank filled with extreme sensory overload stimulation. What I'm saying is basically is that it's like being trapped inside a coffin of fun.

LEO: What's this I hear about you guys unveiling a new secret weapon?
BT: That is complete news to me. I'm usually the last one to know. CoCo is the mad scientist of the band. He's sort of like Christopher Lloyd from Back to the Future but with shorter hair that isn't gray. You're not talking about the thing where we fill the club with water and come out on a floating stage, are you? If that's it, then yes, we're definitely doing that.

LEO: How do you feel about the government cutting funding for the NASA program?
BT: It was so primitive anyway. It's sort of like asking someone what they think about people not starting fire with sticks anymore.
LEO: Phillip K. Dick or Dick Dale?
BT: I don't normally don't answer questions about multiple dicks, but I would say in a pinch, Philip K. Dick because he got struck by a pink beam of light that instantly talk him to speak greek–true story, but Dick Dale is great too. Maybe we could create one super-creature and call it Philip K. Dick Dale. All said, it's almost like comparing apple and oranges or even say, like comparing a dystopian science fiction writer to an innovator of the surf guitar sound. Who would be silly enough to do that?
LEO: Are the clones in storage or did you release them in the human population?
BT: I think we killed them if memory serves me right. Wait. .. is that going to incriminate me? Don't quote me on that until I look into the statute of limitations of things like that and whatnot.
LEO: Was there a lot of red tape in renewing your intergalactic work visa for this current tour?
BT: We prefer straight up gooey duct tape to red tape. CoCo even once had a duct tape endorsement. I'm dead serious. How many bands can say that?
LEO: How do you feel about the recent trend in Hollywood of remaking perfectly fine Sci-Fi films?
BT: It's sort of like someone crapping on your birthday cake and making you try to eat around the crap.
LEO: Is it true that "In space, no one can hear you scream?"
BT: No, but it's true that they can't smell you stink.
LEO: Any plans for a new record?
BT: Yes, we plan to record in the very near to immediate future. All the new stuff is like the old stuff but way better. If you liked us when we were young and inspired, you'll love us old and unenthusiastic for sure!
Man or Astro-Man? with Natives and Anwar Sadat
Wednesday, October 12
Headliners Music Hall
$15, 9 p.m.
http://astroman.com/